The Drag Queen Karaoke show hosted by drag queens Clara Divine and Larissa Montes was a huge success in the pub Friday. The event included performances from the drag queens, karaoke sung by students, and free pizza. There was a large student turn out.
There was a prize for karaoke of $50 in either flex cash or a $50 Amazon gift card, so everyone who was singing was hoping to win big. There ended up being a tie so there was a duet to crown the karaoke winner.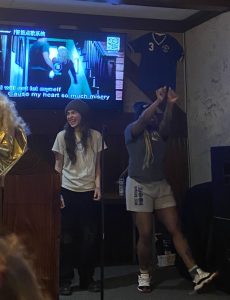 The drag queens finished up the night by talking about Trans rights and drag bans being put in place across the United States, and how lucky the NEC community is to have this kind of event on campus.