Week of October 4th-October 11th
I think I speak for everybody when I say President Obama, please come back. The babysitter is going to kill us.
Yes, it's been another week in this dreadful year, otherwise known as 2020, and boy do we have a lot to unpack. But, first, some honorable mentions: 
Eddie Van Halen and Johnny Nash both passed away this past week. Van Halen passed away this past Tuesday October 6th, 2020 after a long battle with cancer. Johnny Nash passed away of natural causes on Tuesday October 6th, 2020 as well. 

Senate hearings to confirm Judge Amy Coney Barrett are to begin on October 12th. 

Speaker of the House Nancy Pelosi has made a statement declaring that it is time that Congress gets a say in when the 25th Amendment gets to be instituted. The bill to pass a law that would allow Congress to have a say in the invocation of the 25th is to be presented before Congress on Friday, October 9th. 

Hurricane Delta hit Louisiana on Sunday, October 11th. Delta is the 10th name storm to landfall in the United States this year, a new record that hasn't been broken since 1916. Delta is also the 4th name storm to hit Louisiana this year, an occurrence that had never happened before.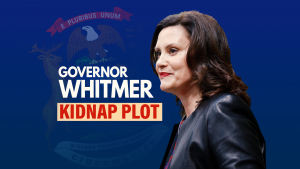 Moving on, this past Thursday, October 8th, 13 men were arrested and charged in a plot to kidnap Gretchen Whitmer, Governor of Michigan. The plot, however, was a lot deeper than it seems. It has since been revealed that the 13 men had planned to not only overthrow Governor Whitmer, but several state governments that they believed were violating the Constitution.
The individuals are also suspected to have attempted to target law enforcement, seeking out the home addresses of several officers. The group has also been training to storm the capitol building in Michigan to kidnap several government officials and made several violent threats, which were intended to start a civil war. 
This is concerning for many reasons.
For one, these are actual domestic terrorists. Homegrown. Born and raised in the "good 'ole" U.S. of A. These aren't your across the pond, or border, stereotypical terrorists that you have been taught to fear. These are terrorists from your backyard that you have been taught to ignore.
What's worse is that the President of the United States refuses to condemn them. In fact, it can be assumed, and is suspected, that the President is at fault and did his part by encouraging these groups. It was only about six or seven months ago that President Trump tweeted out calls for Michigan to be "liberated" and now we have terrorists trying to do just that.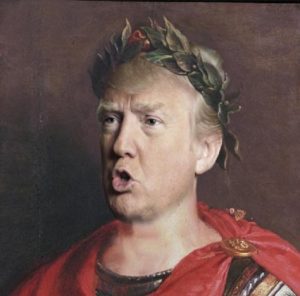 To make matters even worse, after the plots to kidnap Governor Whitman were spoiled, President Trump still refused to condemn these groups. On the contrary, he continued to attack and berate Governor Whitmer on Twitter. I don't know what it is about the person whose sole job it is to protect the American people refusing to condemn terrorists, even encouraging them, and then attacking their almost-victim online, but it's a little unsettling, and terrifying.
Yet, the weekly Trump antics didn't stop there. After leaving Walter Reed Hospital on Monday, Trump's been more erratic and nonsensical than ever. Many attribute this to the steroids he's been given to combat the virus, and Trump high on steroids is something completely new. Just in this past week, Trump declared he'd be stopping COVID relief until after he is re-elected into office, mulled over wearing a Superman outfit when leaving the Hospital, gave a 2016-esque speech targeting "crooked" Hillary Clinton, and called for President Obama and Vice President Biden, his current political opponent, mind you, to be arrested. 
Orange Julius, you have outdone yourself.
If you're still not convinced that this man should not hold the most powerful office in the world, might I mention he made the Taliban–yes they still exist–celebrate this past week. To the surprise of everyone, Trump announced, publicly, that the troops in Afghanistan would all be pulled out before Christmas.
You know what's a great idea? Telling your enemy when you'll be leaving them.
Upon hearing the news, Trump's military advisers were all dumbfounded as he neglected to tell anyone about his plans to announce this, let alone that he was planning on doing so. However, not everyone took the news in a bad way. The Taliban went on CBS to endorse Trump for re-election.
Let that sink in.
Not only has Trump been endorsed by the KKK, but now he's been endorsed by the Taliban, as in an extremist group we've been fighting for the last nineteen years. Look, there is a surplus of reasons why I believe Trump should be voted out of office and be sent packing to Alcatraz. Here are some!
Being endorsed by the KKK and the Taliban 

Letting COVID-19 get of hand an kill over 200,000 people 

Inciting a race war

Refusing to condemn domestic terrorist groups 

Having the mental capacity of a three year old

Jeffrey Epstein, enough said

The multiple criminal charges against him 

He's a racist

He's homophobic 

He's misogynistic

He's xenophobic 

He's transphobic

He's an actual pedophile 

A known sex offender
The truth of the matter is, Donald Trump is a white supremacist. He's a rapist, a criminal, and an all around bad person.
In the past four years we've been given nothing but negatives from this administration and if anything, it seems like they lean more and more towards facism everyday. I don't know what America will look like in four years, but I am positive that it will not last another four with Trump in office.
Holocaust survivor Ruth Nussbaum put it straight, "When I hear Trump speak, I hear Hitler again. When I see his rallies, it's like what I saw in Nazi Germany." 
This is not an election we can afford to skip, and I know it can get annoying and overwhelming to hear the same thing be said over and over, but this year we have a chance to make things right.
We have a chance to cast a vote and kick him out. So if you haven't yet, I implore you to register and I implore you to vote in November and end the nightmare that is Trump's Amerikkka.
Orange is, in fact, the Imposter.