Last fall New England College introduced a brand-new experience that included gaming and streaming. Enter esports, located in what used to be the college's Simon Center board room now turned into a gaming arena. The new arena is directed by coach Tyrelle Appleton who leads the esports program, creating something different for students by allowing them to play video games on a whole new level.
NEC made it clear that it hopes to capitalize on popular games such as NBA 2K, Overwatch, and Fortnite, among others. Esports is said to be a new club but the program is intended to be a collegiate sport, competing at the highest level against other school's esports clubs.
"Tryouts for the Esports team at New England College started on January 29th, but prior to that coach Tyrelle Appleton installed a state of the art gaming facility on campus," said Chad Fazio, a club member.
Curtis Felix, another club member, stated that esports has been around for the past decade and has been expanding among different schools for some time with competitions all over the world.
Fazio and Felix both expressed that there are different teams of members at NEC that focus on a few games at a time; the main focus is on PC games and they are on a separate set of teams.
"The NEC esports team has many different teams that focus on specific games, we have a team for Fortnite, Overwatch, League of Legends, NBA 2K, Super Smash Bros., and Rocket League," said Fazio.
There are six total teams that currently compete for NEC but Fazio also mentioned that the club has over twelve teams in total for twelve games.
Felix mentioned that the program is included in the National Association of Collegiate Esports (NACE), and the association takes charge and selects the hottest, most popular games that are on the market today such as NBA 2K and League of Legends.
"These games are most popular in the esports world. I believe that since we are a part of the National Association of Collegiate esports, they control what games we play."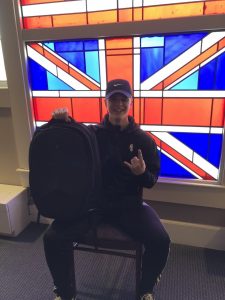 Both Fazio and Felix explained that there are a random number of members placed on a team, each team focuses on one video game. Games such as Overwatch has about nine members, Smash Bros. has four, and League of Legends has about three. Fazio said that his team has four members and that the game they're focusing on currently is the popular fort building, shooter game Fortnite.
When asked about if esports was open to all students, Felix said, "We have club hours for anyone weekdays from 3-5, anyone can be a part of the esports club."
According to both members the esports club trains a few hours a day Monday through Friday for their gaming. All teams must come together every Wednesday for a workout session in the weight room inside Bridges gym.
According to Fazio, NEC has already competed with many recognizable schools across the nation, including Alabama University and Southern New Hampshire University. Felix noted that the club also has had scrimmages against other colleges, "Sometimes it runs longer when we have scrimmages, we have scrimmages against different colleges that also have an esports program, each team has had at least one live scrimmage and most of the teams have been a part of tournaments."
What drove the two esports members to play video games, but most importantly, what inspired them to take their talents to the NEC esports team?
Fazio's responded: "Once I got a x-box 360 for my birthday that's when I got serious into gaming. During the early years I played fan favorites such as Call of Duty while also playing games such as Gears of War at a competitive level. As other games such as Fortnite began to emerge, I started to play them more and more and my skill progressively got better until the present day when I am now able to play games I love competitively on a collegiate team."
Felix has different motives and aspirations: "I'm more of an x-box player, I use my controller when I play on the computers. I'm interested in having my own personal set-up back home some day in the future."
Both Fazio and Felix commented on what the future holds for them with esports.
"Well, as a college student I focus on academics first, esports is an amazing opportunity that has been put in front of me and I hope to be able to compete/entertain during my time with the team. I hope to bring a championship to the school and money to my name," said Fazio.
"As far as the program here at NEC, it looks pretty good; we have the interest of both undergraduates and a lot of prospects are looking to come to NEC for the esports program. I believe my coach said he has about one hundred prospects looking to come to NEC for esports in the next coming year."
New England College continues to make history as esports is one of the school's main new programs this year. We will just have to wait and see what the future holds for esports as coach Tyrelle Appleton has many goals for the program for years to come.