On Saturday, April 7, Granite State College held the 10th annual New Hampshire Psychological Association Academic Convention. This event is organized by the NHPA for undergraduate psychology students at NH colleges to connect with professionals and become involved in hands on activities outside the classroom setting. Students from Keene State, Granite State, Plymouth State, UNH, Franklin Pierce and New England College were in attendance.
According to the event's website, the convention brings New Hampshire psychology students and faculty together for "a day of information gathering, student poster presentations, workshops, activities, networking, and the psych cup intercollegiate game of psychology trivia."
The  keynote speaker at the convention was Dr. John Randolf, a board certified clinical neuropsychologist and Adjunct Assistance Professor of Psychiatry at the Geisel School of Medicine at Dartmouth.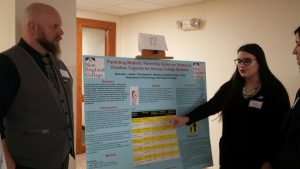 Also in attendance were Dr. Cynthia Whitaker of the Greater Nashua Mental Health Center, Dr. Nicole Sawyer from the NH Legislative Commission on PTSD & TBI, and Dr. Betty LaFleur of Generations Geriatric Mental Health in Manchester, NH. Students were able to ask questions to psychology graduate students as well as speak with the above listed professionals about topics in their respective departments.
New England College Psychology Professor Heather Chabot and five hand-picked psychology students attended the event representing NEC. Prior to the convention, the five students conducted individual research and created supporting posters for the poster session of the event.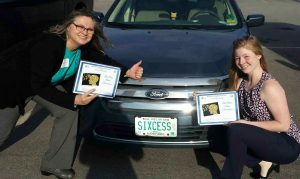 During the poster session, NEC student Meaghan Six outshined her competitors and won 1st place for her original research presentation regarding "The Benefits of Effective Communication in Relationships."
"The purpose of this study was to examine correlates of communication including feelings, qualities, and behaviors. Results indicated that those who identify as effective communicators feel more satisfied, encouraged, loved, appreciated and less stressed," explained Six in her poster's abstract.
The New England College psychology students also participated in the convention's "Psych Cup" trivia competition wearing custom t-shirts provided by Dennis, owner of Gin Gin's in downtown Henniker.