Doug Griffin of Newton, N.H. was not expecting to get the call from the office of President Joe Biden that he did a few weeks ago. Griffin was being invited to the State of The Union address.
Griffin has been a hard-working advocate in the opioid epidemic. He has been raising awareness around the stigma and advocating for better substance abuse treatment since his daughter, Courtney Griffin, passed away of a fentanyl overdose in October 2014. She was 20 years old.
Griffin made the trip to Washington, D.C. for the event on Feb. 7, 2023.
"It was an honor to be there, and I sat right behind the First Lady so that was cool. When I sat, I looked down on the floor (where) they have your name where you are supposed to sit. Mine said Doug Griffin, and I looked at the seat in front of me and it said FLOTUS (First Lady of The United States)," said Griffin.
At one point during the speech, President Biden addressed Griffin and his daughter directly.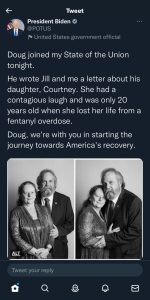 "Joining us tonight is a father named Doug from Newton N.H., he wrote Jill and me a letter about his daughter Courtney, contagious laugh, her sister's best friend, he shared a story all too familiar to many Americans. Courtney discovered pills in high school, it spiraled into addiction and eventually her death from a fentanyl overdose, she was 20 years old. Describing the last eight years without her, Doug said 'There is no worse pain.' Yet their family has turned pain into purpose, working to end stigma and change laws. He told us he wants to 'start the journey towards America's Recovery,' Doug, we're with you," President Biden said.
"It was an honor because I have made friends with many senators over the years and heard them tell the story of my daughter in both the House and the Senate before, but this is the first time I heard the President of The United States tell her story," Griffin said.
Griffin is the New Hampshire State Chair for the Addiction Policy Forum.